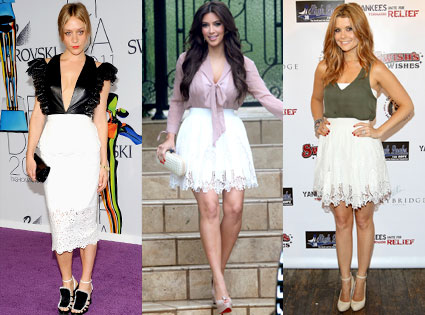 TREND:
White lace skirts
WHO'S WEARING IT: Chloë Sevigny
(Chloë Sevigny for Opening Ceremony),
Kim Kardashian
(Intermix) and
Joanna Garcia Swisher
(Intermix)
HOW TO WEAR IT:
The lacey skirt is a staple in any girly-girl's closet and for good reason. The delicate bottom can be paired with practically any color on top and can be dressed up or down. However, we do recommend you chose your shirt wisely—avoid looking overly prissy like Kim with a pink pussy-bow blouse or too edgy with a cutout leather top à la Chloe. Instead, take a style cue from Joanna and strike a balance between the two with a solid silk tank in your favorite hue. Finally, make sure to tuck in your top to highlight the smallest part of your waist. Also, feel free to rock your white number after Labor Day, we dubunked that myth years ago!
fashionsandmode.blogspot.com