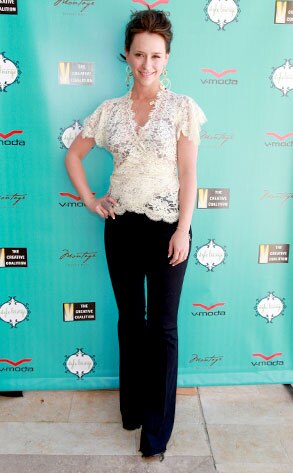 The
actress gave us the scoop on her personal style during Kari Feinstein's Emmys Style Lounge, where she received goodies from Samsung, Retro Sport apparel, Turbie Twist, and EGF and Dr. Loretta skincare.
WHAT SHE'S STYLIN':
It's from my closet! I have no idea who it's by, but I'm obsessed with lace at the moment. I like lace because it's really girlie. I love the dark jeans. They're bell bottoms. I like the hippie thing. It's cool.
FASHION PHILOSOPHY:
I like to be comfortable. As far as designers, I like Narciso Rodriguez. I just bought a bunch of Vera Wang stuff. I also really love Alice + Olivia.
JUMP FOR JEWELS:
Usually, I never wear jewelry, but I've been walking around and everyone's been putting stuff on me. I'm really loving Adesso's necklaces. I'm feeling kind of fabulous, so I might change!
SKINNY IS IN:
I'm starting to dig the skinny jean. For girls with curves, the skinny jean can be a bit tricky, but I'd style it with a longer top and leather jacket in the fall.
FANTASY COLLECTION:
My icon is
Audrey Hepburn
, so if I could design anything, it would be an entire collection of the little black dress, but done in different styles.
FAVE PRODUCT:
Elizabeth Arden's Eight Hour Cream is awesome. It makes your face look super glowy.
fashionsandmode.blogspot.com