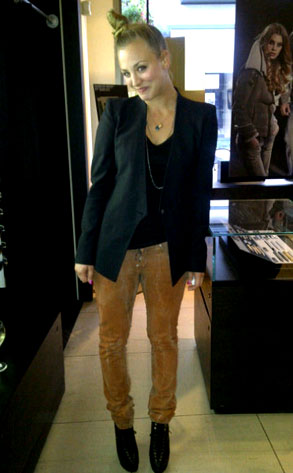 The star of
The Big Bang Theory
gave us a peek into her personal style during Porsche Designs' Fashion's Night Out in Beverly Hills. The event celebrated the launch of the brand's new denim line for the fall/winter collection.
WHAT SHE'S STYLIN':
Porsche jeans! This is one of their new special washes—the highlight jean in this brown-orange color. I love it. I like that it looks like I rolled around in the dirt or on the street. They're all marked up and messy. I don't like looking too put together. My blazer is Helmut Lang, T-shirt is Market and shoes are Ann Taylor.
FASHION PHILOSOPHY:
It's pretty much this. I'm a jeans-T-shirt-blazer girl. I always have one good piece, whether it's a great pair of shoes or an amazing jacket. I keep everything else pretty simple. When I get a little Bohemian, my stylist tries to push the glam up. I can be very edgy, too. I love a good pair of combat boots—that's the boy side of me. I recently splurged on a pair of Miu Miu combat boots that I love! But it depends! I can get a pair at Forever 21 or Neiman's. If I love them, I love them!
TOP KNOT FEVER:
I do love a top knot—probably too much. It's a simple way to look chic. People think I spend hours on it. But I literally put the ponytail up on top of my head, twist it around my finger, put one bobby pin in and it's done. Sometimes it looks good and sometimes no.
STYLE ICONS:
I love
Jennifer Aniston
. I love the way she dresses. She's very cool and simple.
Kate Hudson
and
Gwyneth Paltrow
always look fantastic. But the important thing is to find what's right for your body and accept it.
BEAUTY MUST-HAVES:
I don't wear a lot of makeup, but I always wear sunscreen whenever I go out, even when it's cloudy outside. Neutrogena has a great one. I use Ole Henriksen products. I went in there for a facial and I was obsessed! I switch it up a lot. I get bored. The minute my shampoo runs out, I have to get a different one.
fashionsandmode.blogspot.com