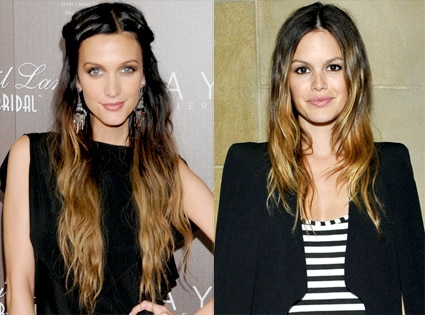 Last summer, mystyle condemned the hair-raising two-tone tresses trend that was seen on many celebrties, such as
Ashlee Simpson
,
Rachel Bilson and Drew Barrymore
. We even went as far as sticking it in our Don't Try These Trends at Home gallery. The look was just so severe and very witch-like. Well, today is a new day. I've been itching to change up my hair for a while now. No, I didn't try the trend at home. I went to the professionals—coloristKazumi Morton at Neil George Salon in Beverly Hills, who specializes in natural-looking ombré.
"Ombré is a big trend. It's been a trend for a while, and people are still asking for it. But it isn't always perfect," Morton told me. "Having the right tone—dark to light—is very important. It shouldn't be extreme." During my consultation, she told me she would keep my dark base, which naturally has a lot of red in it, but add carmel highlights in a way that it would appear soft and effortless. "Subtle is in, not the stripey look. If the ombré diffuses nicely, it will look really pretty."
As I sat there with my God-given hair color (left) still intact, I asked Morton what attracted women to ombré locks. "It's low maintenance," she said.
Sold!
"You don't have to do it so often, which means it's recession-proof and healthier for your hair. You can completely grow it out." In fact, she told me mine would last five months! And since I don't do much to my hair, she emphasized that the gradual color would give my hair more style.
Wow! Those are some excellent reasons. But that's not all. "When the soft, woody carmel tone hits the light, it makes you look younger," Morton added.The ombré effect is what little kids have in their hair. It looks really natural. Natural hair is youth. People like to look young."
I'll take my low-maintenance, long-lasting new hair color with a large serving of youth. Thank you very much!
One caveat: Cut your hair accordingly. "It's good to have long, soft layers because it will give nice movement," explained Morton. So I did just that with the help of hairstylist Anh Cotrain. However, your hair can be one length as long as the ombré doesn't create a harsh line.
The four-hour process, which included a light teasing technique during the foil application to achieve the delicate color change, felt like one hour since I was moving from chair to chair a lot, and there was no bleaching involved. How's that for easy, breezy?
In the end, I was extremely happy with how my hair turned out (below). The color looks amazing in the sun, and I can't wait to see how it looks when I sport some nice beachy waves. Such a great choice for summer!
fashionsandmode.blogspot.com