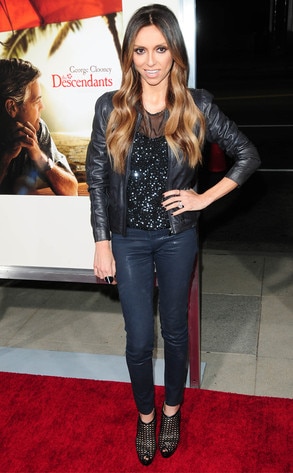 In case you haven't noticed,
Bill
isn't the only one who wears the pants in the Rancic household.
Giuliana
is notorious for her masculine looks. "My friends always make fun of me! They say I dress like such a dude when I am not on TV," G reiterated to myStyle when we last caught up with her. "On
E! News
, I'll wear flirty dresses, but in my personal life, I look like I ride a motorcycle!"
In fact, Giuliana is such a fan of tough-looking pieces that she did
not
show up to the Los Angeles premiere of crush
George Clooney
's movie
The Descendants
wearing a va-va-voom dress, hoping to catch the leading man's eye. No. The ombré-haired beauty rocked a black big shoulder leather jacket, sparkly-and-sheer black top, dark skinny jeans, black caged ankle boots and black cocktail ring.
"I usually do a lot of black leather pants, black high boots and a black leather jacket; I'll even do a pantsuit," G told us. Want to channel the Italian babe's edgy style? She suggests accessorizing with a great ring, keeping your makeup really girlie and rocking gorgeous hair worn down to balance out the more manly parts of your ensemble.
fashionsandmode.blogspot.com