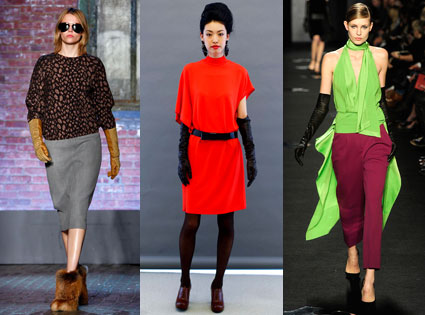 TREND:
Elbow-length leather gloves
WHO'S WEARING IT:
Models at
Yigal Azrouël
,
Helios & Luna
and
Diane Von Furstenberg
HOW TO WEAR IT:
According to the designers at NYFW, ladylike leather gloves are making a major comeback. Since the accessory can seem like a relic of yesteryear, we figure a little well-intentioned guidance about how to cop the look might be helpful. While you can wear the arm accessory with a dress like at Helios & Luna, we prefer to aim for a cozy look with a sweater or coat. If you have any ¾ sleeve outerwear, now is the time to pull it out. As Yigal Azrouël showed, the cropped sleeve works perfectly for showing off the gloves. Avoid pairing your lovely leather with sleeveless tops or dresses like they did at Diane Von Furstenberg. The large swaths of exposed skin plus the wintertime gloves make it look like you've confused the seasons!
fashionsandmode.blogspot.com