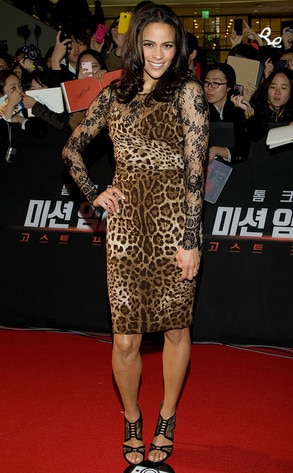 There's something about a LLD (little leopard dress, that is), that just sends our hearts aflutter. It's simply the perfect way to add a little sex appeal to any outfit.
That's why we we're glad that
Paula Patton
tapped into her animal instincts for the
Mission:Impossible – Ghost Protocol
red carpet in Seoul, South Korea. The spotted frock was by none other the master of the print (and Paula's favorite design house), Dolce & Gabbana.
With her fiery personality and curvaceous bod, a dress like this fits Paula perfectly. The only problem? We're a big fan of mixing textures, but there's something off about this printed ruched bodice combined with alluring black lace. The pointy bustline would have looked great on a sleeveless frock, but the sleeves overpower the look here.
The idea of the playful pairing is fabulous to us, but we just wish it had been executed a tad differently.
fashionsandmode.blogspot.com