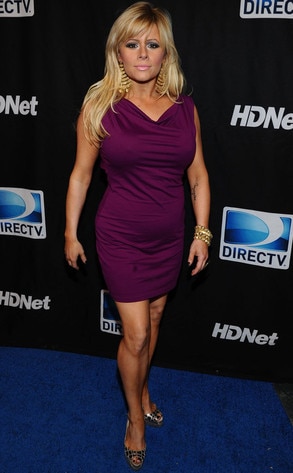 Alexa Prisco is the queen Glam Fairy, which means she has a lot to say about her fellow
Jerseylicious
divas. In this episode recap, she dishes on her puppy party for Rue and her future with boyfriend Danny.
RUE TO THE RESCUE:
I got Rue about five yaers ago when I had given up on men. All I wanted was someone to be there with me when I'm sad, to make me laugh and to snuggle with, but I didn't want another useless man. Rue has been my best friend—he's like my son.
PUPPY PARTY:
I don't care what people consider "normal behavior" in society, because throwing a birthday party for Rue was the most natural thing in the world to me. He's a rescue who didn't come from the best home, so to give him this one day where he can feel extra special and loved will hopefully help him forget that he was once treated poorly. He deserves the world!
TEAM DANNY:
Danny is everything you would look for in different friends, all wrapped up in one. He's my best friend and boyfriend. When I had given up hope and became perfectly happy with not making dating a priority ever again, that's when I met Danny. I hate to say it, but it's true: It happens when you least expect it.
KID CONFESSION:
I love Danny, and I don't want to lose him, but having kids and slowing down is not my reality currently. I was worried about his reaction because I was afraid that if I stuck to my guns, I would lose him.
CATHY KNOWS BEST:
I completely agreed with everything Cathy said to me during the Glam Pups photo shoot. My "wall," so to speak, is admittely a little thicker than most. I am so used to being let down that I don't allow myself to get excited about things, because I don't want to get hurt.
GETTING REAL:
I felt so relieved after my conversation with Danny at our apartment. I felt like he just wanted me for me, and talking about the future didn't turn out to be so bad. But I am scared about the thoughts I have had since I have met him about marriage and kids, because they are so foreign to me!
MARRIAGE MATERIAL:
I always knew this in my heart, but saying out loud that I might want to marry him one day was very relieving and almost therapeutic. I am so afraid of losing who I am that I am missing out on all of these wonderful feelings, but Danny has made me realize that there is nothing I have to change about myself.
fashionsandmode.blogspot.com