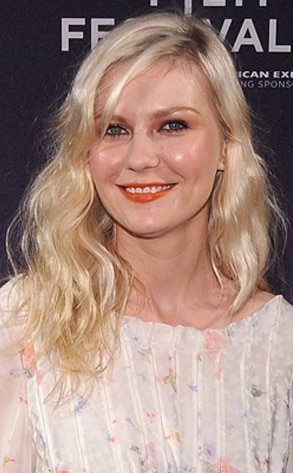 Not the people you may think. We recently tested all manner of bright orange nail polishes, shadows, blushes and lip colors. The surprise: The color works brilliantly on precisely the skin types that shouldn't make any sense. I refer to pale skin, the kind that often comes with pink or rosy undertones.
Kirsten Dunst
makes a mighty fine example.
Want product suggestions? Sure. Let's start with some of our favorite lip colors: Skone lipstick in Dawn, Mally high-shine liquid lipstick in Summer Peach and NYX Luscious Lip Gloss Palette in Sweet Oranges.
"Who knew orange would look good on me?" a fair-of-face tester told me of the first two products on that list. "Love it! Very fresh and modern, not outrageous." The NYX palette is also diverse enough to flatter pretty much any skin tone out there.
(If you're timid about orange, start light, with Boots No. 7 Lip Glace in Tangerine Twist, CoverGirl's Shine Blast in Fire or the sheerer-than-it-looks Besame Classic Lip Glaze in Red Berry.)
Moving on to nail polish, Mode's shade No. 111 and CND's polish in Guava and Tropic Coral got serious love from our testers—especially Tropic Coral, which was declared "super flattering for all skin tones." (If you want a super-confident disco orange, go with Nicole by OPI in Fresh Squeezed.)
This season's orange blushes will make your cheeks look positively juicy. We loved Cargo's blush in Laguna, Vapour's stick blush in Intrigue, and Jemma Kidd's interpretation in Pose—"a good all-purpose blush and lip stain," our reviewers declare. (For serious orange: Napoleon's Colour Disc in Orange No. 56.)
Finally: Eyes. Look no further than the NYX eye shadow Caribbean Collection palettes; you'll definitely find an array of oranges to love, particularly in the Aruba variety. "Even the yellow looked good on me, but the richer ones are great. Very saturated color. Would also be really good for ladies of color or rocking a solid tan."
See? Oranges are easier to wear than you think.
fashionsandmode.blogspot.com