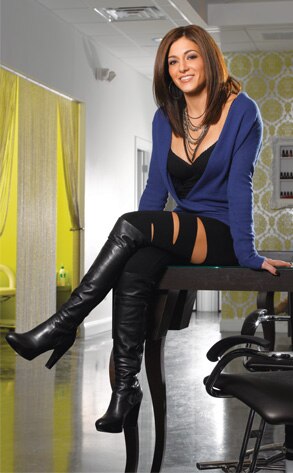 Jerseylicious
star and Gatsby Salon manager Christy Pereira opens up about finding new staff, relying on Olivia and fighting with Anthony's new partner, Cathy.
SALON SHIFT:
Things have been really different since we turned down Joel Warren and Edward Tricomi's offer to buy the Gatsby, so Mom and I decided to throw a big "Updo To Do Event" to show clients what the staff is capable of despite the many internal changes. It went great, and Olivia was so good that we gave her a shot at helping with hair part-time.
OLIVIA'S TRY-OUT:
I didn't think it would be a huge deal since Olivia is trained, but the day she assisted was a mess! I had so many complaints about long shampoos and bad blowouts that it didn't take long for my mom realize that I was right—we needed a senior stylist.
C'MON, MOM:
I thought the CPSA event would be the perfect opportunity to recruit new stylists. My mom, of course, thought Olivia was enough, but I have to manage the staff day-to-day and know better! We can't rely on Olivia that much—she works two salons and does makeup! So Mom and I went to the mixer, only to discover that Cathy Giove threw it! I didn't even know that you could be a full CPSA member with no salon experience. The whole thing was extravagant and gaudy—everything Cathy is.
AWKWARD ENCOUNTER:
Since it was Cathy's event, everyone was there, including Gigi and Tracy, which made it very uncomfortable for us. We decided to leave after Cathy's ridiculous speech, but we didn't get out unscathed. Hello, this is Jersey! We got into a giant fight with Cathy because she accused my mom and me of being bad bosses. Needless to say, the entire event put a bad taste in my mouth, especially as far as Cathy Giove is concerned.
HIRING FREEZE:
After all that, we're still looking for someone to hire at the Gatsby. There is so much to do!
fashionsandmode.blogspot.com