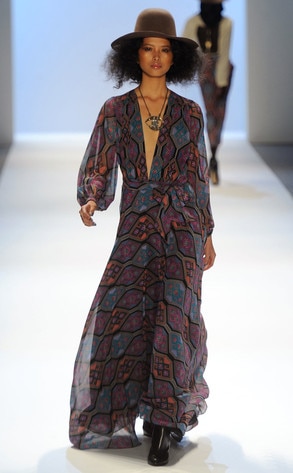 Fashion Week is really a time when you should have tennis shoes instead of stilettos on. You're running around a lot, and there's a lot going on. It can be overwhelming. You have to figure who you really want to see and just focus on one or two shows a day, because if you try to do more than that, you won't even make it halfway through!
For Day 3 of NYFW, Mara Hoffman was someone whose show I wanted to see. She is amazing. In a few years, she's probably going to be known in the same vein as Diane von Furstenberg for her beautiful, geometric prints.
I was not disappointed. Her fall 2012 collection is very young and fresh. At the show, she mentioned that she had taken inspiration from Shaman for her earthy prints—and I definitely saw that connection. The vibrant prints are something you can wear every day or on vacation, and layer it up with sweaters. The show was, by far, one of my favorites ever. And I've done hair at Fashion Week for 10 years for the likes of Badgley Mischka and Reem Acra.

A lot of the girls had these scarves underneath their hats that hanged back, kind of like a veil. The hats were big and floppy. The makeup was done in all earth tones, but it was also really elongated from the corner of the eye all the way to the hairline! It was almost as if the Mara Hoffman girl got caught in a golden dust storm. It was awesome!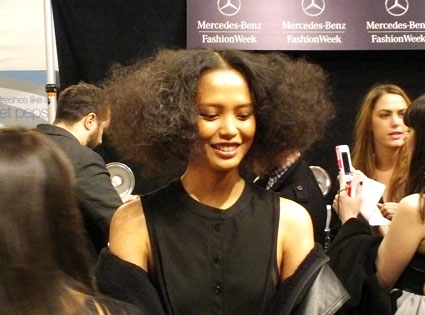 Nick Irwin, whom I've worked with at Toni and Guy for many years, created lots of texture for the models' hair. The shoulder-length styles were flat at the scalp, but very kinky. There wasn't a lot of product used so the hair floated and bounced down the runway. While I'm a hair girl, I loved the nails at Mara Hoffman! At first, I thought the geometric nail art were decals. But they were Lee press-ons in a French manicure that had been hand painted!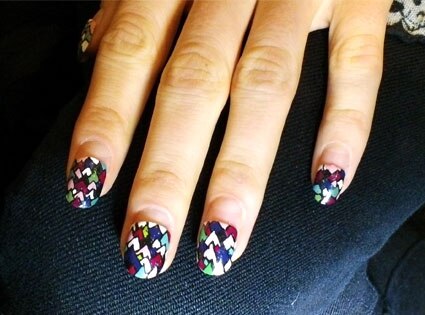 Just a fun, little tidbit: Hoffman teamed with Planned Parenthood and designed condoms in three prints. Proceeds will fund the great organization. Kelly Cutrone was at the show handing them out—and when Kelly gives you something, you take it! Oh, one more thing: I know why Lady Gaga wears capes with her outrageous looks. Trying to a put a top coat over my one-of-a-kind jacket called "Audacious" from Runway Couture was really ridiculous!