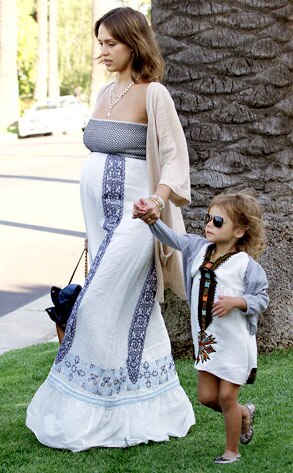 First let's consider the calling card of the cougar. She's is a sheep in lambs clothing: 6 inch heels, cleavage up the wazoo, and a full face of makeup. Now for the cougar's exact converse, the sloppy mom. Her signature slipups include baggy jeans and unwashed hair. I think we can agree both sound pretty bad. Thank goodness there's a chic way to meet in the middle á la
Jessica Alba
. To piece together the style puzzle, we snagged an exclusive interview with top Nordstrom stylist, Nicole Simons, for her tips on how to pull off the mommy style balancing act.
We're going to make this as simple as possible—after all, most mommies don't have the luxury of free time. So without further ado, behold the Hot Mama Style Commandments:
You shall not get caught up in trends.
"Let's face it, not all of us can or should be wearing what we see in all the magazines," coaches the stylist. Does that mean you have to forgo the ubiquitous skinny jean? No, "but instead of a bright pink pair with four inch heels that
Katy Perry
is sporting, pick a warm understated color that still shows you are fashion savvy." Finish off the look with a sheer flowy blouse and your Tom's slip-ons, advises Simons.
You shall dress your age.
This one's to keep any would-be cougars in the cage. We're all for showing a little skin—just because you're a mom doesn't mean you have to dress like a nun! However, if the thought crosses your mind that your outfit may be inappropriate, it probably is. Do not pass go; do not collect $200. Head up to your room and change into something age-appropriate, missy!
You shall make the most of accessories.
Start to think of your accessories as game-changers. A statement bag or an eye-catching ring can completely transform your hum-drum outfit. Not to mention it's totally, "a fast and easy fix for busy moms who may also be on a budget," says Simons. For example, thesetassel earrings for under $20 are casual enough to wear everyday, but will still up your glam factor.
You shall make looking good a habit.
Think of it like brushing your teeth or taking your vitamins. Make a habit out of taking the time to make yourself look good. Most moms feel guilty for taking some "me" time, but trust us it benefits
everyone
if you put a little thought into your appearance. You may have an afternoon of park playtime and grocery shopping ahead of you, but that doesn't mean you shouldn't dress to impress. Trust us, the other moms at the sandbox will notice!
fashionsandmode.blogspot.com