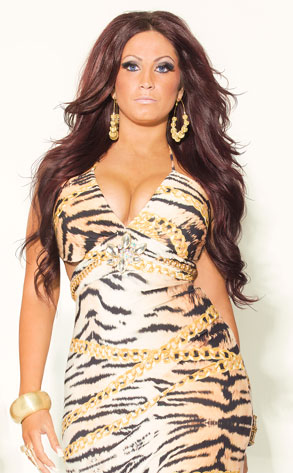 SIGNATURE ITEM:
I love long sleeves, especially giant bell sleeves or little balloon sleeves with the cuff. I'm not really into things without sleeves. In the summer, I wear loose, flowy ones. I love the look of sleeves because there are so many different kinds that you can have fun with. I have a dress with bell sleeves that are like 3-feet-wide.
PRETTY WOMAN:
Over-the-knee boots are my thing. I don't wear any boots that aren't thigh-high. I have a thing with my knees being out, like I don't have bad knees or anything, I just like the look of it. It's hooker chic. I have them in every color. I must have 45 pairs. I'll wear them with dresses and jeggings or jeans. I never really wear them with leggings, just cause it looks like a cat suit then.
GOING GREEN:
My favorite color of all time is green. Jungle greens and lime greens...I love them all. Green is such a beautiful color. And it's my eye color, without the contacts. I love green with red, which reminds me of Posion Ivy. My hair is red. I think the combo is fun.
THUMBS DOWN ON UPDOS:
I have a small head and big thighs, so wearing my hair down and voluminous evens that out. I would rock an updo if it was really teased, curled everywhere and pinned instead of pulled back.
PRESERVING BEAUTY:
I get Botox now, for preventative reasons. I get things here and there that would help stop wrinkles. But I don't think I'll ever get a facelift. That kind of freaks me out, that they have to move your skin.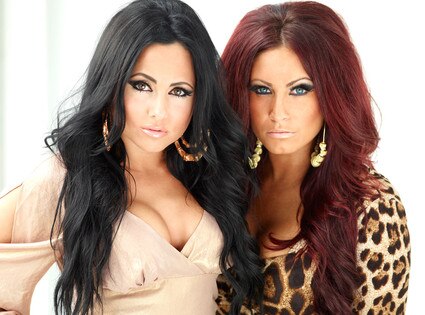 ULTIMATE GOAL: I want my own salon. Nothing huge, but something I could make my own. It would be my way of cutting. I don't cut hair like normal people. When Gayle sees me cut, she asks, "Why are you cutting like that?" But my haircuts turn out beautiful. I've developed my own way of doing things. It would be my salon, my rules, my way.
VISION FOR DREAM SALON: I'd want to split the salon. There would be one door, but two different rooms. One section would be a barber shop and the other half would be a woman's salon. If you have to attend a party with your husband or boyfriend, he can just go with you. So instead of having to go to a million different places, it would be a one-stop shop. There would be hair and eyebrow stations and a tanning bed in the back. That's what I really want.
fashionsandmode.blogspot.com