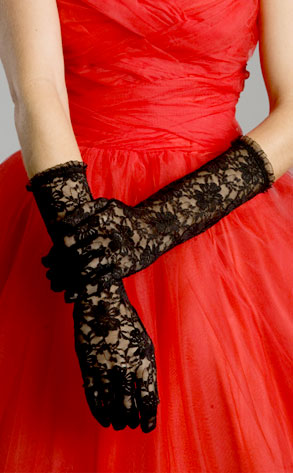 The latest is, for the sake of brevity, early. As in retro. More
Mad Men
, less steampunk; less
Lillian Gish
, more
Liz Taylor
.
"Old Hollywood is in style," says Paige Rolfe of WardrobeWire.com. "You can easily dress up a look by adding elbow-length gloves. Also, lace is BIG this season in the fashion world, so don't be scared of lace gloves or a little lace on your shoes."
For example, take a simple, inexpensive dress like this $70 cutie Rolfe found at Nordstrom; add a pair of those gloves Rolfe was talking about, plus a Joan Holloway-style mid-heel, and you're done. Or go with a retro-style peep-toe.
Another inexpensive option: I am not a fan of David's Bridal—their service is equal parts disorganized and disrespectful—but if you know what you want, you can get in and get out. Ask for this starlet-inspired black number.
If you have a little more money to spend—or, let's be honest, invest—Net-a-Porter has some breathtaking options for you. Rolfe recommends you look no further than this glamorous Westwood to get you in the mood for a romantic, Hollywood diva prom. Rachel Gilbert also delivers a white knockout for under $1,000.
Tease your hair up in a bit of a beehive, add just one piece of borrowed jewelry from the family heirlooms, and enjoy. Prom doesn't need to be a hassle. In fact, it should be drama-free; it's a celebration of all you've become so far.
fashionsandmode.blogspot.com