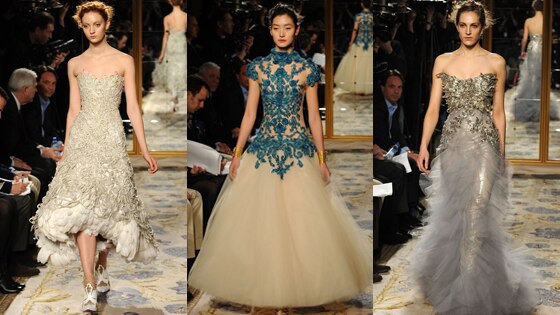 Designers
Georgina Chapman
and
Keren Craig
always create beautiful gowns that are worn by Hollywood A-listers. And we won't be surprised is we see any of their fall 2012 creations being sashayed down the Oscars by celebs. All these red carpet-ready dresses can be best described in two words: Absolutely breathtaking!
Unlike last season's collection, which was inspired by a fantasy under the sea, this time their catwalk brought to mind angels descending down to earth. And that was exactly what they were going for! We could see the heavenly touches primarily because of the white feathers they adorned their concoctions with, some of which had touches of gold or were embroidered in clear crystals.
However, some of the numbers also had a darker feel to them, especially the tulle dresses that had skeleton-like embroidery on the bodice. Although there were a few black laser-cut designs in the bunch, the color scheme remained on the neutral side, but they did manage to throw in splashes on teal and a crimson grown, too.
With such an array of beautiful gown, you know there was going to be a bevy of beautiful ladies getting a front row view.
fashionsandmode.blogspot.com