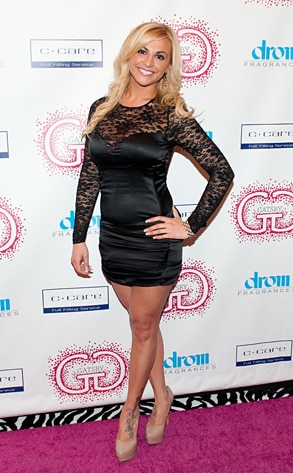 Michelle DeCarlo may be the newest Gatsby gal, but she definitely doesn't hide behind her co-workers! myStyle caught up with the Jerseylicious star to find out how she's getting along with the salon staff, plus her style philosophy and fave makeup tips.
GATSBY WELCOME: At first, it was awkward. I feel like Tango had it easier when he started because he's a guy! Gigi and I had our problems at first, but besides that I get along with everybody.
SCHOOL DAZE: I went to college for a year, but it wasn't for me. I've liked hair and makeup since I was a little kid, so after I got married and came back to Jersey, I went to beauty school for almost four years. I hated it, though! In the summer, my friends and I would go to the beach more than school. I was like the neverending student.
FACE IT: It depends on if I'm going out or just to the supermarket, but I always have makeup on. You never know who you're going to see. Hugh Hefner could walk in!
FAVE PRODUCT: I love Revlon ColorStay lipstick. You can make out with anyone and it won't move. It is phenomenal and doesn't dry out your lips.
MAKEUP JUNKIE: I really like Dior eye creams, Chanelmoisturizers, Bobby Brown long-wear gel eyeliner and MAC eyeshadow. Dior also has a really nice airbrush makeup called DiorSkin AirFlash Spray Foundation, which I love. It makes your skin look flawless. I use a bunch of different products! It's hard to pick just one.
DAY-TO-NIGHT TRANSFORMATION: If I don't have a lot of time to get ready, I'll add more liner and a red lip to my day makeup to make it more evening-appropriate.
DAILY ROUTINE: I always wash my face, day and night. I try to give myself a facial with a scrub and mask once a week. Sometimes, I'll spray tan my face to even out my skin tone.
STYLE PHILOSOPHY: I like to dress classy yet a little provocative. You do have to leave something to the imagination!
SIGNATURE ITEM: I have high-waisted pleather pants that make my butt look amazing. I like to wear them with belly shirts, because it looks cute and makes your waist look even tinier. They're my go-to. I love them!
fashionsandmode.blogspot.com