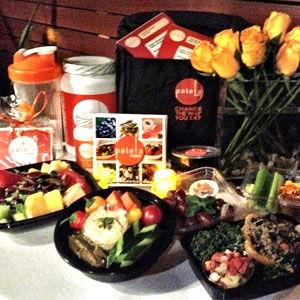 We know the holidays are filled with a wide variety of edible temptations, and whenever you bite into grandmother's made-from-scratch boysenberry pie, you feel a tinge of guilt. We wanted to know how we can prevent the Christmas 15 that a lot of people put on during the holidays. To answer the questions we all wonder this time of year, we caught up with executive chef Kelly Boyer of Paleta at her private holiday dinner in Venice, Calif. to get healthy and helpful tips! Paleta is a celeb-approved meal delivery service that focuses on gourmet organic eating.
Drink a lot of water.
Chef Kelly could not stress this enough. People often underestimate what dehydration can do to your body. Lack of fluid affects you regardless of whether you're hiking Runyon Canyon or typing away at an Ask Style in your cubicle. Drinking a lot of water replenishes your body, helps to keep you feeling full and stops you from doing mindless snacking. (And since you'll be chugging a lot of water anyways, might as well make it Boxed Water, a water promoted by Paleta with sustainable packaging and a small carbon footprint!)
Pay attention to portion-control.
Part of the reason Chef Kelly's meal service is so successful in boosting the wellness of her clients is that they monitor portions carefully. Your snacking should be light and when possible try to incorporate veggies and hummus. You can munch on these without feeling guilty since they add needed nutrients to your diet and prevent you from filling up on other less healthy options.
Increase your activity level.
Chef Kelly says its okay to have that large serving of gravy on your mashed potatoes, but make sure to take a walk around neighborhood the next day. Since you already are eating more than you usually do during this time, balance it out by hitting the gym more or doing simple exercises around the house when you have free time. A little can go a long way in staying healthy during the holidays!
Cleanse. Cleanse. Cleanse.
There are so many toxins in our environment that we're constantly exposed to from what's in the air to what's in the water to even what's in the food we eat. So people should proactively detoxify themselves periodically to flush out bad elements. Paleta features a mind and body cleanse with nutrient-packed shakes and targeted meals to help you function more effectively.
fashionsandmode.blogspot.com