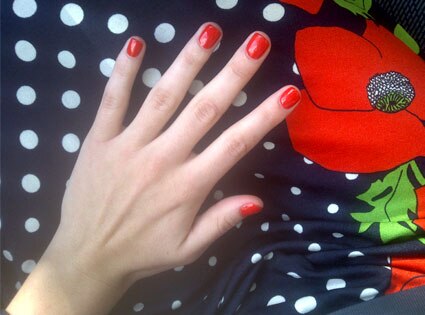 Imagine a nail polish that lasts for two weeks without a single chip. Sounds like a tall (nail) tale right? Wrong! I road-tested the fabulousCHI nail bar's gel manicure and caught up with the owner, Fawn Ton, to get the scoop on the indestructible mani.
Let's cover the pros first, because we gotta admit, there are a lot of them. First of all, there's the selection. Since gel nails have been around for over a year, you have a rainbow of colors literally at your fingertips. For all the uptown gals, CHI nail bar specializes in customized french gel nails, and for the downtown divas, they do a glitter version that'll make your nails look like mini disco balls!
The next big benefit? "Gel color nails provide longer lasting manicures with advantages like no dry time, because the ultraviolet light cures the color within minutes," shares Ton. You know what this means? No more freaking over the inevitable dented digit when you're minutes out of the salon—not to mention winter pedicures are totally doable without the frozen feet orwacky booties. It gives new meaning to the phrase
tough as nails
.
The last notable pro is that the gels soak off easily in acetone. This means no drills or filing down your nails, like traditional nail enhancements.
fashionsandmode.blogspot.com