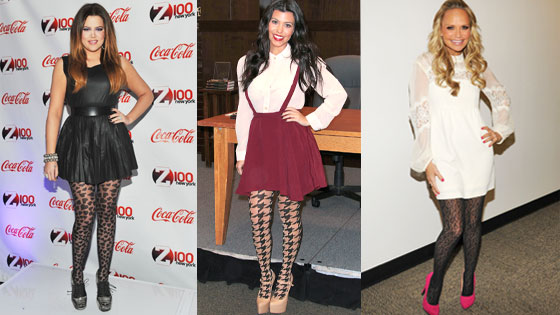 TREND: Printed tights
WHO'S WEARING IT: Khloe Kardashian (Yves Saint Laurent), Kourtney Kardashian and Kristin Chenoweth
HOW TO WEAR IT: Tights used to get a bad rap—after all, you're stuck wearing them in the winter when it's cold, and really, how warm do they keep you when you're battling snowy elements anyway? That's why we love the newest patterned pairs that have cropped up, because as Khloe, Kourtney and Kristin prove, they're used more as an accessory than another layer. Khloe wore her heart hose best, pairing them perfectly with a flirty LBD and quirky black pumps. Kourtney's was almost perfect with the button-down and maroon skirt, but the suspenders and nude pumps competed a little too much with the houndstooth print. While we think you can take a risk like Kourt did if you keep it just a bit simpler, stay away from a combo like Kristin's white lace dress and pink heels. There's just too much going on, and you want your legs to be the main focus!