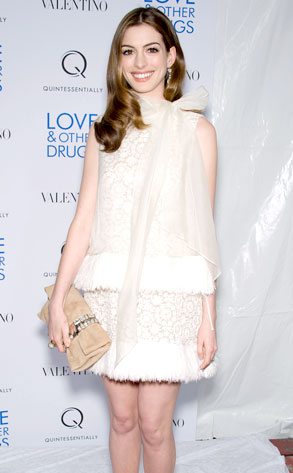 I love the pristine look of little white dresses, but my pale skin always appears washed out in them. How can I warm up my look?
Little white dresses are always a classic way to freshen your look and can be easily transitioned from day to night or from summer to fall. Pale skin shouldn't bar you from working this wardrobe staple! Fair-skinned celebrities from
Kristen Stewart
to
Anne Hathaway
have successfully pulled off wearing stark white frocks, and with a few simple tips, you can own the look yourself. As usual, all it takes is the right accessories, perfect makeup and a dash of confidence.
Bright accessories.
This should be style 101, but to avoid looking like Casper, you should aim for bright accessories and heels when wearing LWDs. Bold colors or glitzy metallics will add enough contrasting color to warm up your look. Case in point:
Emmy Rossum
's look in her LWD. By punching up her look with a bronze clutch, cuff and belt and finishing off the ensemble with gladiator shoes, the starlet easily goes from ghost to goddess.
Creamy fabrics.
Another lesson from Emmy: when possible, shoot for off-white tones, like cream or ivory. Emmy's LWD has subtle golden accents, which look less harsh and give her a nice glow. You can also get a white dress that has colored hemlines or piping to prevent from getting lost in your dress and set it apart from your skin.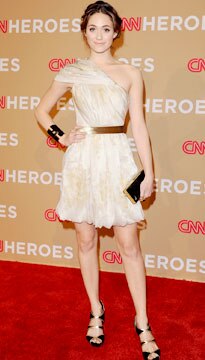 Bold makeup.
Also when it comes to mixing LWDs and fair skin, natural makeup is not your friend. Stay away from nude tones. You want to highlight your facial features but wearing bright lip color and eye makeup. Since your dress is already pristine, fuse some life into your look wherever possible. Red lips, deep blush or even a teal mani! Get creative!
Some poise.
Also known as the swagger factor. A lot of how you look in an ensemble has to do with how you feel in it.
Marilyn Monroe
was as fair as they come, but her most iconic look was in an angelic white dress. It's all about making it yours!
fashionsandmode.blogspot.com