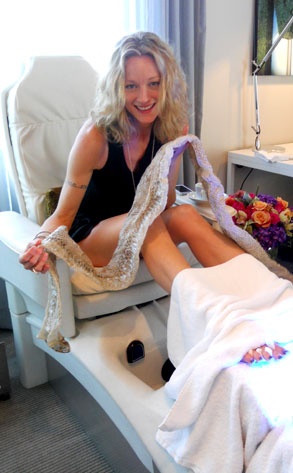 Who hasn't been charmed by snakeskin? The exotic print has become such a timeless and versatile neutral. And, yesterday morning, we witnessed for ourselves how the trend slithered it's way down to the feet of fashionistas!
We were invited to the Andaz Hotel in West Hollywood to watch as manucurist Terri Silacci applied her incredible python pedicure creation on actress
Teri Polo
(left), who will star in the upcoming comedy series
Man Up!
on ABC.
"No animals are harmed in the process," Silacci made sure to point out. "This is naturally shedded snakeskin. It's santized." Now that we've gotten the disclaimer out of the way, let's talk how it works. Silacci meticulously trims the snakeskin to fit each toe nail, and applies it between an instant-drying gel base color and a chip-resisting clear sealant. The pedi takes about two hours, lasts up to two months and costs $300. The synthetic version is half that price. Visit Silacci'swebsite to book an appointment.
"This is the most fabulous thing I have ever seen," raved Teri, who counts pedicures as her favorite way to relax and pamper herself. "It's beautiful. It's unique. I am blown away just looking at my toes." We could not agree more!
FASHION PHILOSOPHY:
I have decided to start dressing my age. I'm not as casual. I try to cut down on wearing jeans. If I do wear jeans, I dress it up with heels or boots and fun, fabulous sweaters or asymmetrical shirts and textured shirts. My favorite store in the whole entire world isAll Saints . To me, their stuff is wearable art. I love All Saints so much that I dress my daughter in their clothes. She and I have matching outfits. It's so much fun!
ON DRESSING HER KIDS:
Pink is my least favorite color, and it happens to be my 3 1/2-year-old daugher's favorite color, of course. She's a very headstrong young lady. But a lot of the time, she lets me pick out clothes for her. It's so great to dress her in something unusual, which is what I like. I mostly dress her grays, blacks, browns—earthy tones. My son is nine and he likes to look nice. It's very cute! He's very aware of how he looks. I like to dress him in things that aren't typical of what boys will wear. I like him to look nice and not to look sloppy.
SKY'S THE LIMIT:
I love heels. I'm 5'7", which is a little taller-than-average, but I still feel short, so I love to wear heels. I feel like a duck in flats. I don't wear designer heels. I can't afford them and, honestly, I think it's a waste of money because you can get the same quality or better at All Saints. I like unusual designs. I don't like to wear what everyone else is wearing. I've ordered 10 pairs of shoes from All Saints in the past month! Their shoes are all quality. They last a really long time.
BEAUTY REGIMEN:
As I age and get a little bit older, I cannot wear the same type of makeup anymore. I cannot wear the same bases because my skin doesn't absorb it properly. I find that the less makeup that I wear, the better for me. I usually don't wear makeup at all. But if I do have to wear makeup, I'll just wear a tinted moisturizer by Laura Mercier or Dr. Loretta. Those two are really lightweight. They give a little bit of coverage and color for winter. As far as skincare, I use Fresh's Soy Cleanser. That's it! I don't put on moisturizer. The skin is made to replenish itself. Coating it just clogs your pores. I don't use any product besides a cleanser. I wash my face at night, so that my natural oils replenish my face. By the morning, my face is nice and soft. I just stick to that regimen and apply Fresh's fantastic Sugar Lip Glosses.
fashionsandmode.blogspot.com